What is Constant Contact? Constant Contact is a powerful suite of online tools to help small business owners start and grow their businesses. Here's a review of Constant Contact's latest update.
Who Are Constant Contact?
Constant Contact have been around for a loooong time now.
I've been a certified partner since they began the scheme years ago.
The last few years they've really worked on improving their product as more email marketing companies have entered the market.
As well as email marketing and autoresponders, it has a whole host of other marketing tools including websites, landing pages, social media management and surveys making it a one-stop shop for small business owners who want something simple and easy to manage.
And what's best about Constant Contact is that they are constantly (excuse the pun) improving it and taking onboard suggestions from their customers and partners (like me).
Here's a quick run-down of the latest product updates:
WEBSITES
The website builder is by far the biggest development.
Launched a little over a year ago, I'm loving how easy and quick is it to get a website set up and launched using the web builder tool.
And it just keeps getting better:
Sub-menus
You can now have nested menu options, for example you may want to have a number of different services under the main Services option in the navigation menu.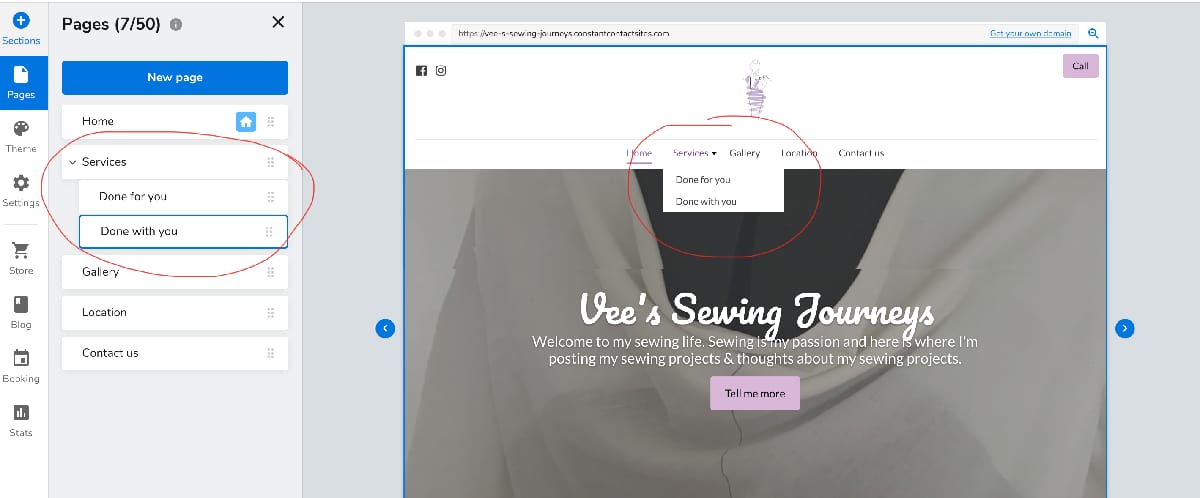 Carousel
There's now a cool carousel section option where you can upload your own images or choose from the library.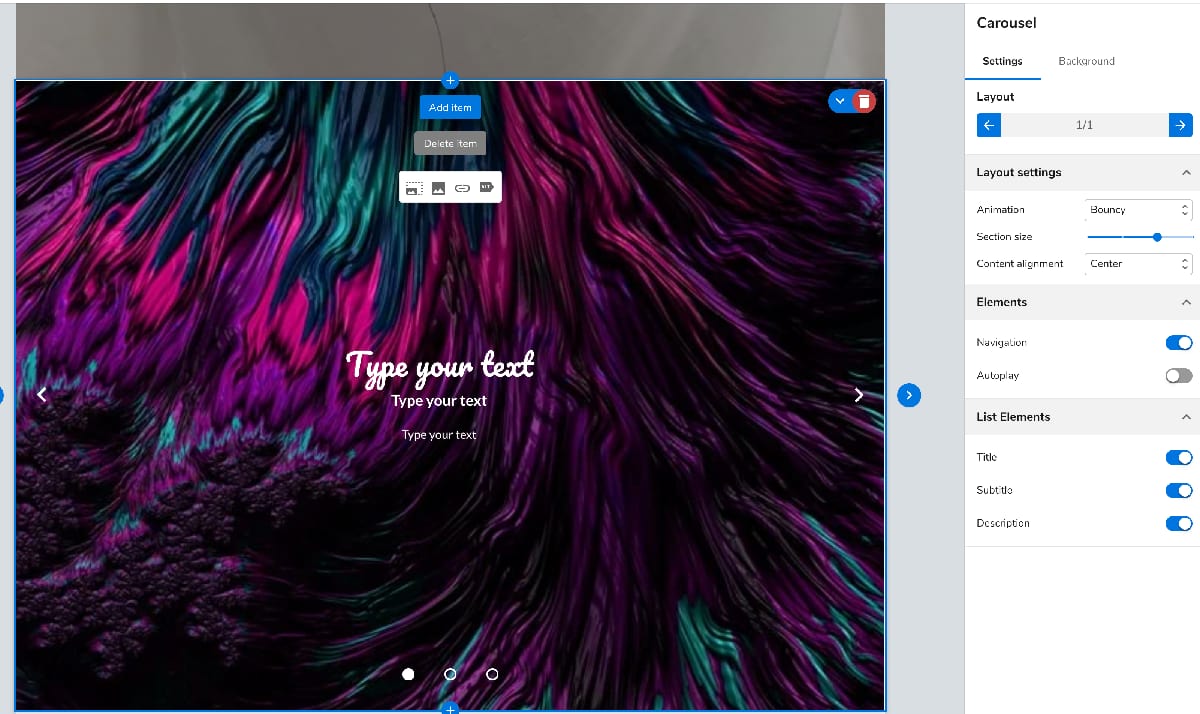 You can have up to 7 carousel images and have them scroll automatically (or not automatic).
In addition, you can overlay each image with a different title, sub-title and description text.
Now there's no option to have a button, but I'm sure that's the next natural thing people will ask for and it'll appear.
So, whilst there's no button, you can link the image and text to another page in the site, an external link, email, phone number or document.
A cheat/work around would be to create an image that has a button image on it and have the whole image clickable.
Image Animation
Talking of images, there are a number of different animation effects that can be applied to any of the background images.
Choose from PARALLAX (where the image appears to move independently as users scroll), to FIXED, CONTAIN and ANIMATE which has a subtle moving/zoom effect.
You can see this effect in action on my Crochet Mini Me Dolls site here – look at the hero image, you'll notice it moves ever so slightly.
Logo
You can upload your own logo or choose from the logos that you created in the logo builder.
There are now more size options to choose from including XL which wasn't there before.
LANDING PAGES
Customisable landing pages are also a relatively new development and perfect for quickly creating lead magnet optin pages and success pages that are integrated with email marketing without any complicated integrations.
Creating landing pages has a similar user experience to creating emails, so it's all nicely coherent and easy to use without having to get your head around different interfaces.
ALSO…. you can now embed YouTube or Vimeo video.
You can see that working on my landing page for the Super Easy Website programme.
SURVEYS
I'm really pleased to see CTCT's Survey Tool updated and upgraded as it was long overdue.
The interface to create a survey is now in line with the latest email interface and is now much nicer and intuitive to set up.
The surveys are now mobile responsive (the previous version was not).
And you have the option to collect anonymous responses or having the responses connected to the people on your list.
Note the survey tool is only available on the Email PLUS plan
INTEGRATIONS
The guys at Constant Contact have been working hard improving and getting more integration partners.
You can now connect with a whole bunch of ecommerce sites so you can email your customers.
Platforms that are now integrated are Shopify, WooCommerce, Etsy, Ebay, BigCommerce, Buildout and Magento.
This means you can insert a PRODUCT BLOCK into your email and it will automatically pull a product you choose from your store.
This facility is available in either EMAIL or EMAIL PLUS packages (not the Website Builder)
There's also other integrations that pull information from your account with a button click so you can send them to your contacts.
These platforms are Eventbrite, MindBody and SurveyMonkey (although now the CTCT survey tool has been upgraded, you probably can ditch SurveyMonkey).
And then there's Zapier which opens up a whole host of other integrations (at the time of writing there's 3,363 zaps!).
SOCIAL MEDIA
Although there were no new updates to the social media tool, I'm going to include it as not many people know about it.
You can link it to your social media channels and create and schedule posts from within your Constant Contact account.
A bit similar to how Hootsuite works.
It shows engagement reports and you can customise the same post to suit the different channels to meet their character length and image criteria.
And don't worry if you don't know what the criteria are as CTCT has them built in so you get prompts when you've exceeded the limits.
REPORTING CONVERSIONS
If you've connected Shopify or WooCommerce, then the reporting section will show your conversions from your email campaigns.
That way you can see how effective your emails are at getting sales in one place.
AUTOMATED EMAILS
When Constant Contact upgraded the Automated Emails (autoresponders) facility, you could only have up to 15 emails in a series.
You likely use automated emails to drip out automatically after someone has signed up to a lead magnet or filled in a form.
Now you can pre-set 31 emails/steps.
However, to get the ability to add more than 15, you will have to duplicate the existing auto campaign to add more email steps.
EMAIL CAMPAIGNS
Email has always been the core product.
It has a nice intuitive interface to build email campaigns.
It's now possible to start an email campaign on desktop and then edit and finish/schedule it on the Constant Contact mobile app.
And vice versa.
You didn't know there was a Constant Contact app?
Get the iOS app from here and for Android here
This is a brilliant update especially if you're like some of my clients who live on their mobile devices.
To get this, you have to set up a new template from the CROSS-DEVICE template selections.
Soon it will be the default option, right now, you find it by CREATE > EMAIL and selecting the Cross Device tab menu.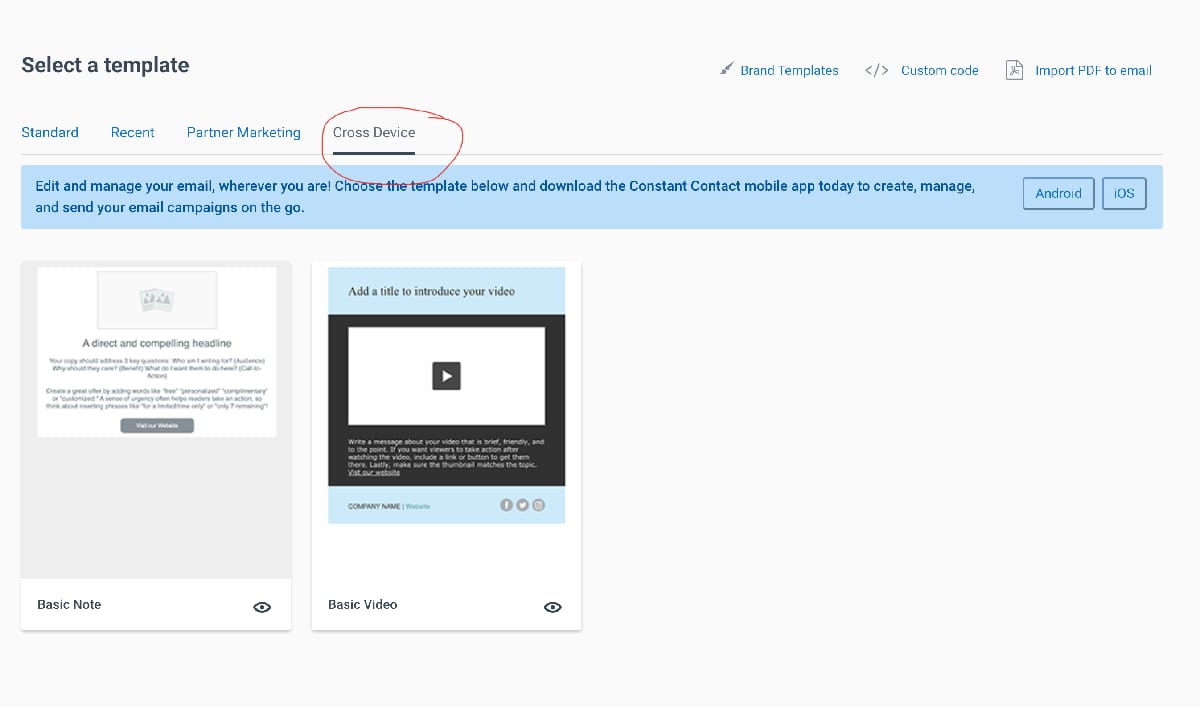 At the moment there's only 2 template options to choose from but basically, you recreate the email in your own branding anyway, so I don't think that matters so much.
Note that you will have to recreate your template and not just duplicate an existing email/template.
VIMEO VIDEOS
There's now an integration with Vimeo, so you can add videos from your Vimeo account to your Constant Contact account, which means it's a whole lot easier to insert them in your emails.
Currently it's only in emails and landing pages, so I'm hoping soon it will be available in the website builder too.
IN THE PIPELINE
There's a bunch of other great tools and improvements in the pipeline, but I'm not allowed to share them. Yet.
All I can tell you is it's pretty awesome if you're selling products online. Join my list and I'll keep you posted. I'll also send you my 5 Minute PDF Guide.
What next
FREE 60 TRIAL OF CONSTANT CONTACT
If you're not already a Constant Contact customer, and would like to give it a try, you can.
Get a free 60 day trial of Constant Contact through my partner link and try all these new features out.
BONUS: If you sign up through my partner link I can get you a discount code – just contact me.
---
Photo by Markus Winkler on Unsplash