3rd party apps to post on social is a time-saving way to manage your business social posting. But is reach affected negatively using 3rd party apps? This article explores the evidence and debunks the myth.
Why Use 3rd Party Apps to Post On Social
Posting on social media must be part of the marketing mix for most businesses these days, particularly small and micro businesses.
Once you've chosen the best platforms that your potential clients are likely hanging out on then you prepare a bunch of posts that educate, entertain, and excite.
To save time you can batch prepare them and schedule them to be released at regular intervals.
Some platforms, like Facebook do have inbuilt scheduling tools.
If you've identified more than one platform to be active in, then you'll be logging in and out of several platforms.
Keeping track of what you have published, planned and checking results on the various platforms can soon become an admin nightmare not to speak of time-consuming.
The Benefit of Using 3rd Party Social Posting Tools
That's where 3rd party scheduling tools come in.
Tools like Buffer, Hootsuite, Sendible are just some of the many 3rd party apps available.
Here's a link to a comparison of the top 25 social media management tools.
Add to the mix – Constant Contact, since they also include social management tool where you can post, schedule and reply to messages in one place.
There's the added benefit of a calendar so that you can see all your marketing in one place, including email campaigns, events as well as social posts in one place.
It's clearly beneficial from the point of view of managing time and the hassle of logging in and out of different social accounts, but how is reach affected?
Is Reach Affected Using 3rd Party Posting Apps?
It's been purported that platforms like Facebook deliberately reduce the reach of posts not posted natively within their platform.
Is this true?
In my research it seems that back in 2015 Mari Smith started a huge row by boldly stating in an infographic that posting with a 3rd party tool results in 89.5% less engagement than posting directly to Facebook
This sparked a huge row between Mari Smith and Buffer's CEO who did their own research that debunked that myth.
Buffer said that the gist of what Mari Smith said was misleading.
The debunking article Buffer wrote is here https://buffer.com/resources/3rd-party-facebook/
And they've since backed it up with further studies that prove with data 3rd party apps don't affect reach.
My own experience of 3rd Party Scheduling Tools
Notwithstanding, I had a look through my own posts on both Facebook and Instagram (where I am most active).
I have a mix of posts posted both natively and via the Constant Contact social tool and there's no difference in reach.
Here's a demo of how I created and scheduled a post using the Constant Contact social post tool.
In fact the post I created for my Constant Contact demo has double reach than my other posts.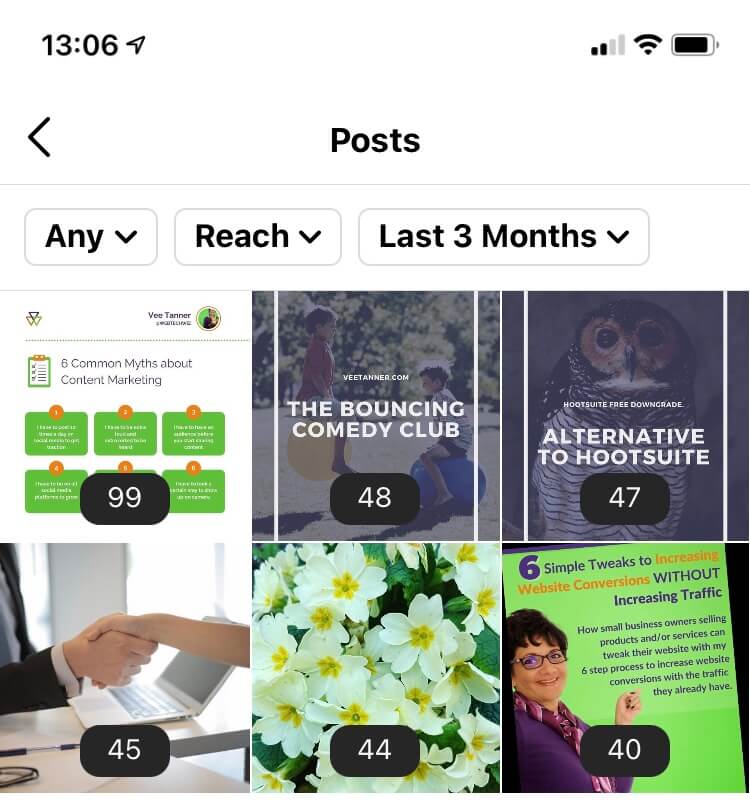 Sidenote: My Insta post reach aren't anything to brag about I know, but you can see that it's not how you post – it's what you post. In the future, I'll write a post about my experiments to increase my Instagram reach.
Facebook Page Reach Is Poor Anyway
What I do know is that reach on Facebook pages is pretty poor and has been for a few years.
Using a 3rd party tool isn't going to make a huge difference anyway.
Things that improve reach is engagement.
If you tend to just 'dump and run' – use scheduling tools to post automatically you might want to blame 3rd party tools for the lack of reach.
However, it's more about what you post and taking the time to respond to comments will help increase reach, because the algorithm is designed to put popular posts in front of more people.
Which means, if you're not taking time to respond to any comments, then that is more likely to result in lower reach in future posts, regardless of whether you posted natively or used a 3rd party tool.
Do 3rd party social posting tools affect reach?
No.
There's no evidence to support the myth.
Next step
If you like the look of how easy it is to post and schedule using Constant Contact's social tool, then give it a test drive.
Constant Contact's Social Posting tool is part of all three packages that they offer starting with £10+VAT/month for the web builder package, going up to £30+VAT/month for the top level package which includes email marketing and trigger based automated email series.
You can get a free 60-day trial with my partner link.
When you're ready to buy, email me for a 30% off discount code.
---
Photo by Timothy Hales Bennett on Unsplash