With Hootsuite's recent announcement of the deprecation of their free plan their users may be looking at alternatives to manage their social postings. Not many people know that social posting tools are included in all Constant Contact's plans. So how do they stack up against one another? This article compares both Hootsuite and Constant Contact capabilities and functions.
Hootsuite and Constant Contact – head to head
What is Hootsuite?
Hootsuite is a dedicated social media management tool. It was original created in November 2008.
Facebook was just 4 years old then and Twitter had just appeared on the social media scene.
The founders needed an easier way of managing multiple clients' social accounts and hence Hootsuite was born.
When it launched it was a free platform and by 2010 Hootsuite had a million customers.
Over the years, they've introduced paid tiers and whilst they have reduced the features on the free plan, they do still offer a free plan.
What is Constant Contact?
By comparison, Constant Contact began its life in 1995.
The founders envisioned an online marketing tool that would help small businesses level the playing field against their larger more established rivals.
Back then it was an email marketing tool.
Today it also offers a whole suite of marketing tools including a website builder, online store, logo designer, landing pages, and social media posting.
Can the social posting tool in Constant Contact replace Hootsuite?
This article takes a deep dive and compares functionality so you can decide whether you need both tool or whether Constant Contact will suffice.
Is there a Free Plan?
The first difference is that Hootsuite had a free plan and Constant Contact does not.
However, the free plan is a legacy plan, so if you're a new user signing up, you won't be offered the free plan at all.
If you already had a free plan, then you will be offered to upgrade to a paid plan or continue on their reduced feature free plan.
The free plan only allows you to connect to 2 social accounts and schedule 5 messages/posts.
This was a recent downgrade (5 April 2021)
Since the free option is not available to new signups, it wouldn't surprise me that they eventually phase out this option altogether.
For the rest of the article I'm going to refer to Hootsuite's Professional Plan
Number of users
Hootsuite 1 v/s Constant Contact 3
This is only important if you delegate your social postings to an agency or VA or have a team that between them manage your postings.
Whilst technically you could share the same login details with your team/VA, it's strictly not a good practice.
One day you may need to revoke their access and this is easier if they had their own login.
Which social media accounts can be connected
Constant Contact will let you connect more than 1 social profile and as many pages that profile has within Facebook, Instagram, and LinkedIn, which is great news if you're posting on behalf of clients.
However, Constant Contact doesn't (at this time) allow you to connect or post to Facebook Groups.
Hootsuite Professional plan allows you connect up to 10 accounts.
In addition to Facebook, Instagram, Twitter and LinkedIn, you can also connect and post to Pinterest and YouTube.
What can I post
Both will allow you to post text and images that either you upload or you can select from stock libraries.
Both interfaces show you your character counts for each platform which are live and show you how many characters you have left as you type.
However, one thing I like with Constant Contact that Hootsuite doesn't do is give you the option to create variations of the same post to your different channels.
For example, each social platform have different character limitations so you can start off with a long post suitable for Facebook, and edit it down for Instagram and then even further down for LinkedIn.
In Instagram it makes sense to use a lot more hashtags than you would use on the other platforms.
In Hootsuite, the only way to do this is to create variations is to create as many separate posts.
I've also noticed that in Hootsuite, the character limit for Facebook posts is 2000, whereas in Constant Contact they allow you to use up to 63206.
How many posts can I pre-schedule
There's no limit to how many posts you can schedule with either Constant Contact or Hootsuite's paid plans.
Hootsuite allow you to select times at 5 minute intervals and Constant Contact you can input times to the exact minute for your scheduled posts.
So you could post consecutive posts with a minute interval, whereas in Hootsuite you would have to wait a 5 minute interval to make sure the posts appear in the right order.
However, where Hootsuite has one up is that you can post multiple images to Instagram, whereas Constant Contact don't have that feature.
Calendar View
This depends on your preference being able to see a month at a time (Constant Contact).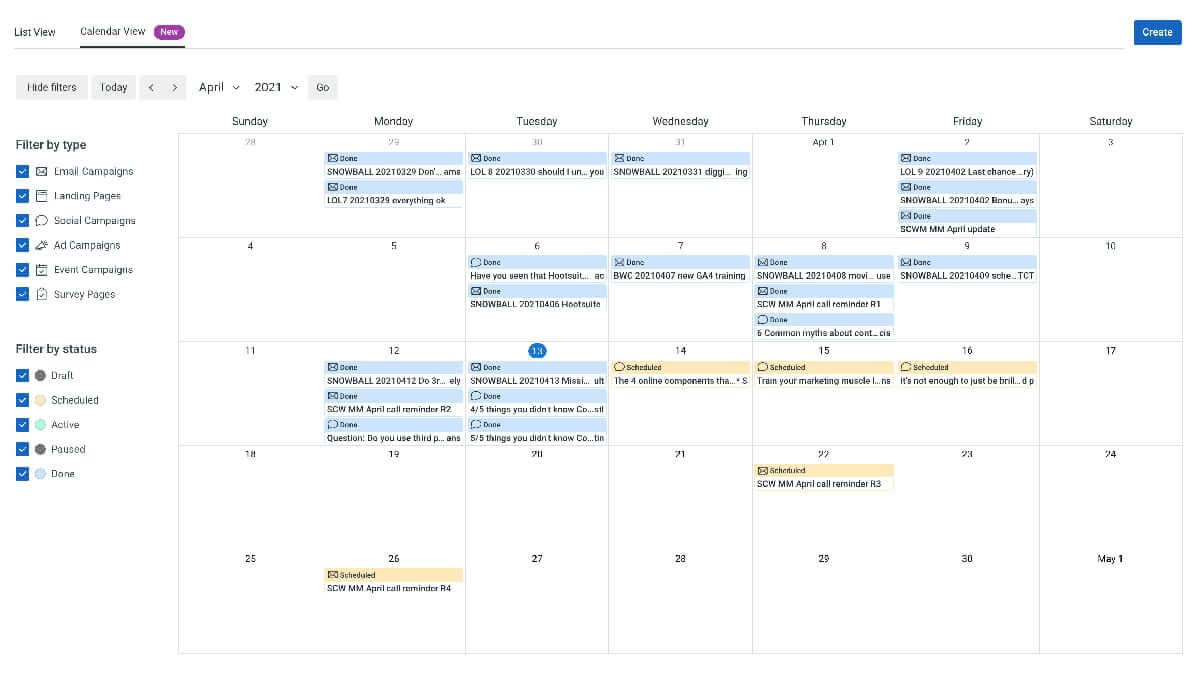 or focus on a week at a time (Hootsuite).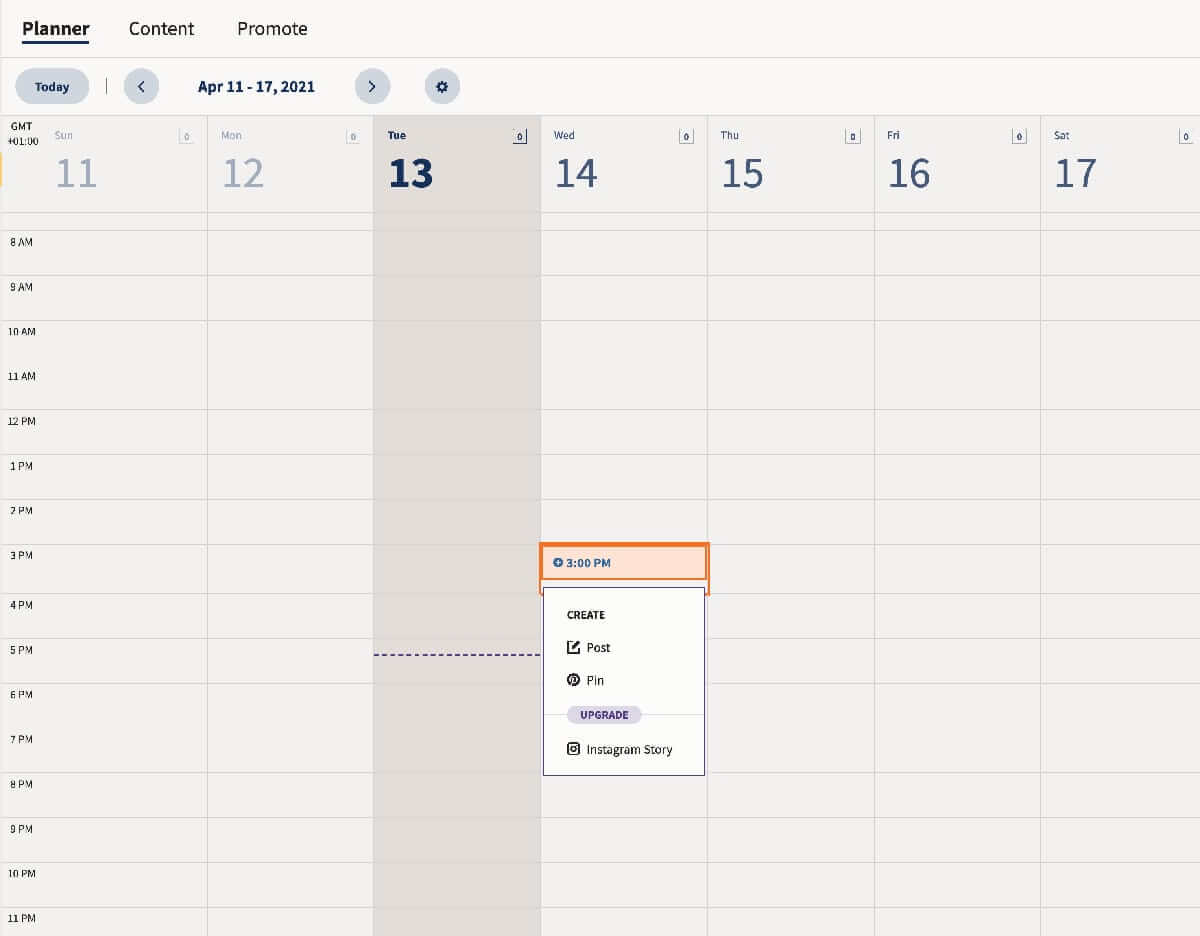 Both platforms allow you to schedule a post by clicking on a day in the calendar.
Constant Contact also shows your email campaigns alongside your social postings so you can easily keep track of all your outbound campaigns which is great for seeing in one place all your campaigns.
Managing Replies and Insights
Both score equally on this as you can see engagement from within their platform and respond to messages and comments.
Ads
They both allow ads, however, they're not the same types of ads.
Hootsuite give you a spend budget of £400/m on boosting posts (in Facebook).
Boosting posts is arguably not a very good use of ad spend as you don't have control over the audiences your posts get shown to.
Constant Contact has a much better ad tool that allows you to create a lead generation ads where you can design your audience or create lookalike audiences and choose their interests and locations.
Other features
Here are additional features that aren't offered by Hootsuite but included in Constant Contact's plans.
Website Builder Package: £10/m
· Web builder tool
· Logo creation tool
· Blogging
· Ecommerce/shoppable pages
· Lead Generation pages
· Pop up forms
· List segmentation
· Contact Management
· Contact list import
· Welcome email
· List building tools
· Event management tool
Email Package – £15/m (up to 500 contacts)
Everything in Website Builder package plus
· Customisable email templates
· Tracking & reporting
· Automated email resent to non-openers
· A/B subject line testing
Email Plus Package – £30/m (up to 500 contacts)
All the above plus
· Automated welcome email series
· Automated email behavioural series
· RSVP
· Surveys
· Eventbrite integration
· Polls
· Coupons
· Dynamic content
It might seem a little unfair to add these features into the comparison since Hootsuite is just a social management tool, however, given their professional package is £39 then it's good to know what alternatives there are and how they stack up.
Conclusion – Which is better value? Hootsuite or Constant Contact
Depends on who you are.
If you're an agency or VA managing multiple clients social accounts, then Hootsuite is a better purpose-made option.
The other advantage that Hootsuite has over Constant Contact is the ability to post/schedule to Facebook Groups, YouTube and Pinterest.
Although I don't think it will be long before Constant Contact add that facility to their social tool.
Otherwise, if you're managing social campaigns for your own business and want to potentially delegate it to a team member or outsourced help, then given that Constant Contact starts at £10/m I think it's a better option.
Even if you went for the top level package at £30/m Constant Contact offers better value since you have all the email functionality as well which you should be doing as part of your marketing mix.
Next Step
Like to give Constant Contact a test drive?
You can get a free 60-day trial with my partner link.
When you're ready to buy, contact me for a 30% off first 3 months discount code.
---